Psilocybe Cubensis B +
Psilocybe b+ cubensis A very popular strain amongst both experienced and newer users, the B+ is considered a good "all-around" trip for various applications; offering a warm visual trip without being overbearing when proper dosages are taken. One of the largest species of the cubensis family, B+ have thicker stems and larger caps than our similar offering the Golden teacher mushrooms online. A solid choice for newcomers and long-time shroom users alike, good for everything from small doses for focus and energy to deeply spiritual trips depending on the amount taken.
B+ Cubensis 
About Our B+ Psilocybe cubensis Spore Syringes:
Description:  The B+ Cubensis Mushroom is a very-easy-to-cultivate and fast-growing strain. Ideal growing circumstances are best for B+ Mushrooms really large mushrooms, especially a substrate that is rich in nutrients. A really big caramel-colored cap will be formed then. But, these mushrooms will also grow quite well under mediocre conditions.
Included with each syringe purchase:
One 10cc mushroom spore syringe filled with B+ Spores.
One sterile 16 gauge needle per syringe purchased and an alcohol prep pad.
Our B+ mushroom spores for microscopy are produced in a state-of-the-art cleanroom laboratory and all of our spore syringes at Premium Spores undergo rigorous testing before shipment to ensure that our spore syringes are contamination-free. We proudly provide the best customer service in our industry so feel free to reach out to us with any questions you may have any time.
For bulk order (20+) discounts, please contact us via our customer support email: support@premiumspores.com
 *Our B plus (B+) Mushroom spores are intended for microscopy research and taxonomy purposes only. Images provided for informational and educational reference only*
The B+ magic mushroom, a best seller at The Magic Mushroom Shop and a big favorite among mycologists, beginners and first time trippers. Let's take a closer look at this popular cubensis strain, known for it's richness and solid performance.
Effects of b+ cubensis
The B+ is known to give one of the warmest visual and spiritual trips. Especially for a first homegrown trip.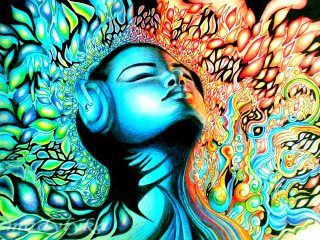 When looking at various sites, notably Erowid, you will notice that the B+ generates some of the most positive feedback.
Experienced shroomers have titled this gift of nature as a versatile cubensis: great for all situations and occasions. Although they do caution to go slowly until you have an idea how they affect your mind and bodily experience.
How do you prepare for first trips? Read more in our responsible use section and bad trip guide section. 
Dosage guide
The typical dose for most magic mushrooms is between 1 and 2.5 grams of dried shrooms, you can find the perfect magic mushroom dosage using EROWID's dosage calculator.
What kind of trip are you looking for? Intense and heavy or light and amusing? Discover the 5 trip levels you should know about!